Jio network became publicly available for users in September 2016, with it killer pricing it made sure that competitors had to change to stay in the market, pitching in free calls and data it acquired users in millions within the first few months and became India's fastest growing mobile network.
Yesterday, after almost 3 years Jio announced that it'll be charging 6p/min for calls to other networks in the name of IUC, Interconnect user charge.
This is what the announcement read.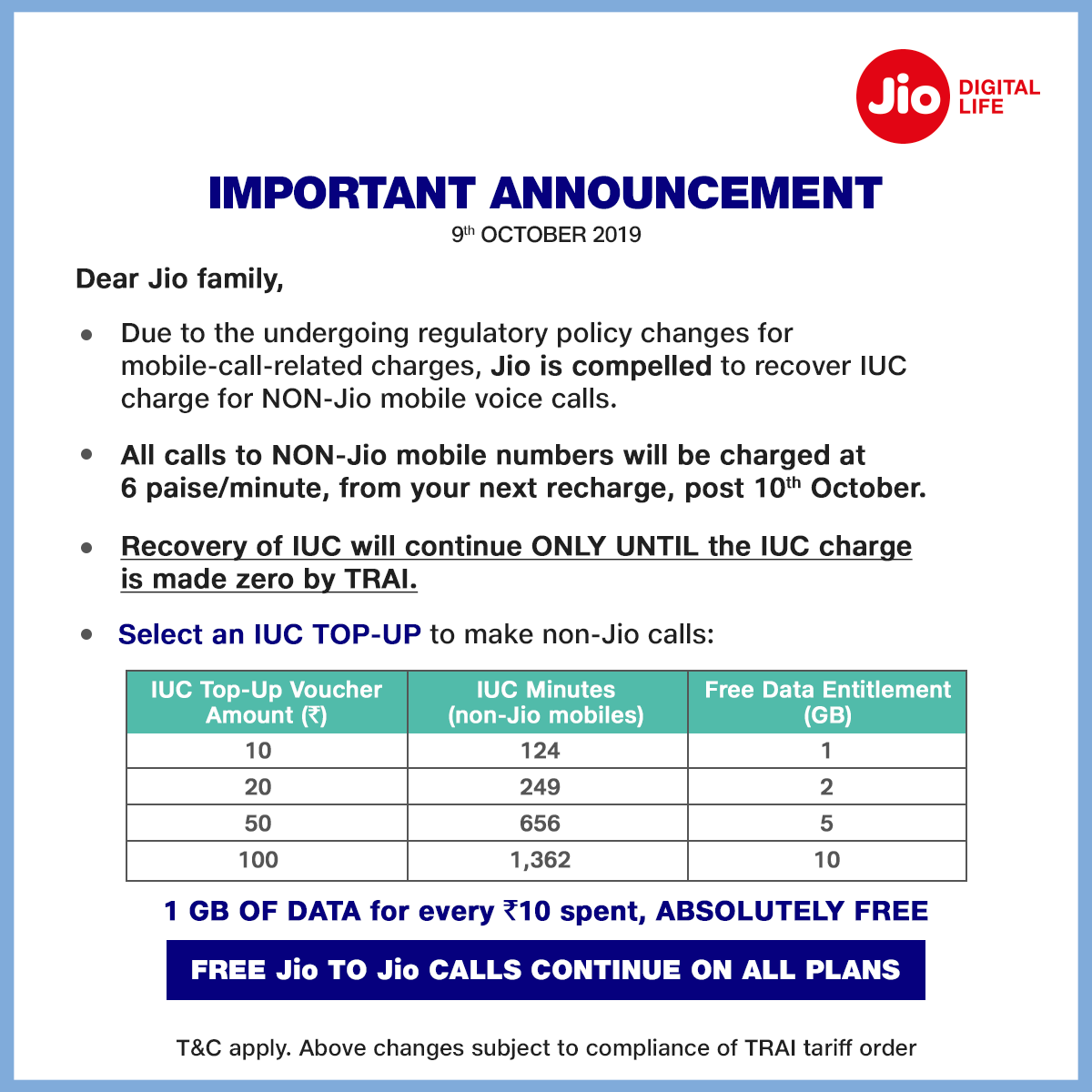 But the #JioUsers were not ready for it, this is not what they signed up for, in the launch event of Jio , Ambani told, "No Reliance Jio Customer Will Ever Pay for Voice Calls Again".
Promises were broken and here's how people reacted to this…
1.
Irony us people are trending #BoycottJio using Jio Network #JioUsers #RelianceJio pic.twitter.com/tEkHBV04PV

— OM Rajpurohit (@omrajguru) October 10, 2019
2.
Relationship between #RelianceJio and #JioUsers. #BoycottJio pic.twitter.com/OqplyLsM2p

— Bhavesh Pratap Singh (@bhavesh_pratap) October 10, 2019
3.
#RelianceJio #JioUsers

Jio:- You have to pay 6p/min for non-jio calling

*Jiousers* pic.twitter.com/hS7vS5cLPD

— Kundan Kumar Verma🇮🇳 (@Kiku_kundan) October 10, 2019
4.
happiest women on the earth 🌎#RelianceJio pic.twitter.com/wtjjCXO1z6

— Bimaar Insaan 🇮🇳 (@bimaarhoonna) October 10, 2019
5.
Jio is a lesson for all of us, it completely destroyed BSNL by its business tactics and rest is history. There is no free lunch in the world. Understand it!!!! Same will happen to all other PSUs. #RelianceJio pic.twitter.com/rSWzDC2KoH

— RISHAV KUMAR (@rishav2787) October 10, 2019
6.
#Jio is charging 6p/min for calling other companies users and giving 1GB data for Rs10 along with the call charges
What #RelianceJio thinks: pic.twitter.com/y1wsPU4HSa

— Achhaya Pathak (@frozen_parantha) October 10, 2019
7.
When customer connects from Jio to other telcos

Ambani :#RelianceJio #6P pic.twitter.com/GlEACav7JO

— हरामी MunNaa🕴️ (@Munnaa09) October 10, 2019
8.
#RelianceJio will charge 6 p/min for cross telecom networks calls.
Jio users: pic.twitter.com/70gsUO6QAw

— Sakht_launda_420 (@420_launda) October 9, 2019
9.
#RelianceJio users right Now pic.twitter.com/qgnpGefNS8

— Sir. Jong🦁 #Housefull4 (@Bas1Kingg) October 9, 2019
10.
#RelianceJio
Ambani : you have to pay 6p/m for
Non jio calls

Jio customer : pic.twitter.com/4MY1vkZXe4

— BekaarAadmi🚶 (@RealFun14) October 9, 2019
11.
Reliance Jio to charge for voice calls made to other telecom operators

Everyone be like :- #RelianceJio pic.twitter.com/ndLQwW95vj

— 💲🅰️〽️ (@Samcasm7) October 9, 2019
Some came up with loopholes…
Recharge with ₹1699 before 12 am tonight and forget IUC charges for the next whole year. #RelianceJio

— Doctor Roshan R (@pythoroshan) October 9, 2019
While some defended it…
Jio is charging 6 paise/Per minute .

Means 1 Rs only For 16-17 Mins Calls , what else you needed ??

Itna kaun bat karta hai vaise bhi…

India With Jio#JioUsers

— K. Star 🌟 #BB13 ❤💝🌠♠ (@Bollywoodventu) October 10, 2019
Those who trending #BoycottJio, they should remember how other telecom companies were looting Indians before #Jio

Before Jio, we paid ₹247 for 1 GB 4G Data now the same companies are giving you 1GB 4G/day at ₹149. Thanks to JIO.

Details for #JioUsers→ https://t.co/pKO4VhblPl pic.twitter.com/5lGizpHbFy

— Prakruti (प्रकृति) (@PrakrutiTweets) October 10, 2019