The 16 year old climate change activist, Greta Thunberg, delivered a speech at UN on climate change, the speech came out cringy, dramatic and to be fair, we couldn't go through it, in fact we couldn't look at it for more than 10 seconds. That's the level of cringe brought to you buy this 16 year old, who seemed to be taught rather than being natural as she claimed it to be.
Have a look yourself…
ICYMI: Teenage climate activist Greta Thunberg gave an impassioned speech at the #UNGA pic.twitter.com/ew4WP2KbIc

— Al Jazeera English (@AJEnglish) September 25, 2019
Could you sit through it ? I couldn't, not more than 10 seconds.
Who is she ?
She came into limelight in August 2018, for her protest outside the Swedish Parliament, and since then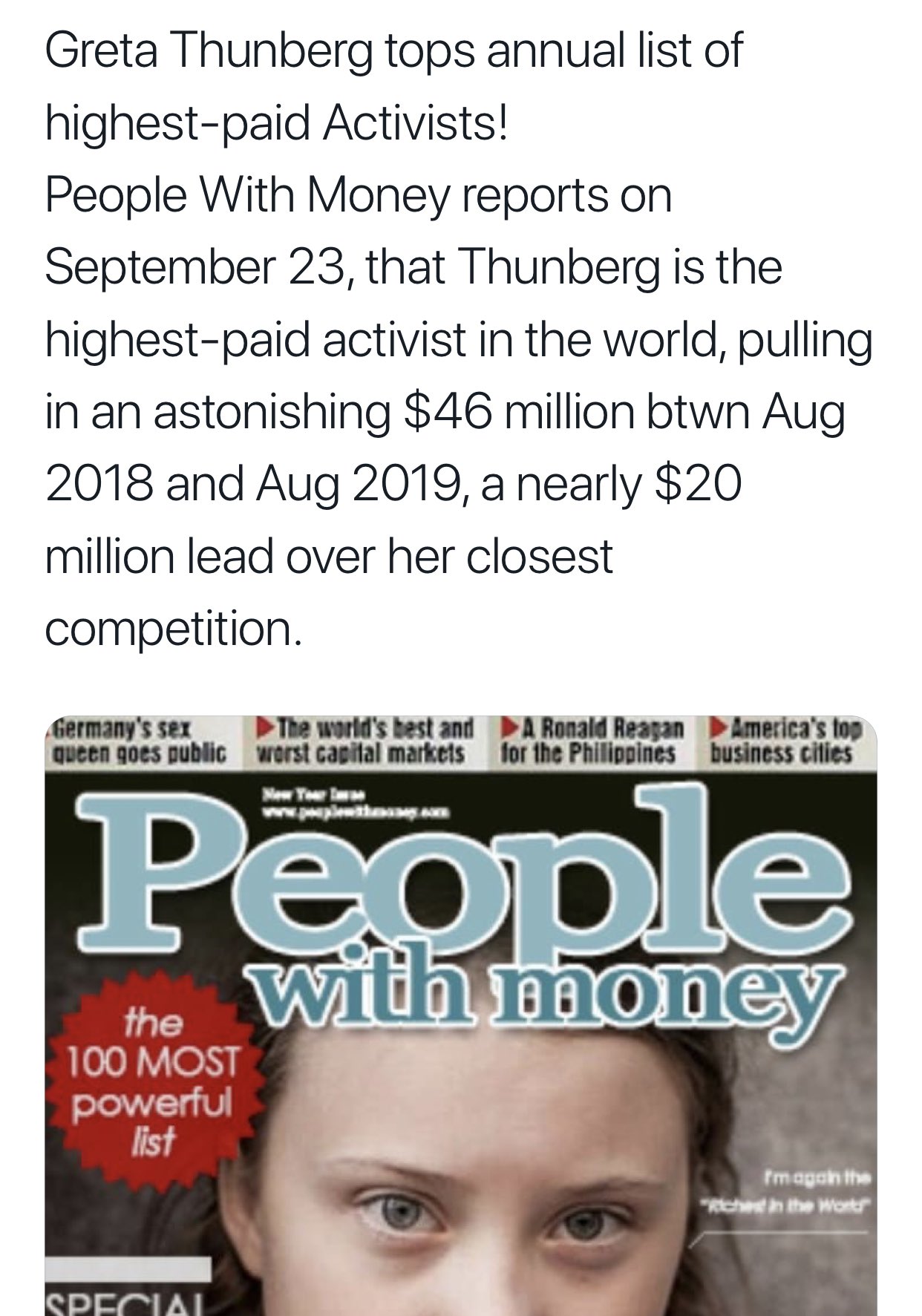 She comes from a family of actors and directors, she is the oldest daughter of Malena Ernman, an opera singer and her father is actor Svante Thunberg. Her grandfather is actor and director Olof Thunberg.She comes from a family of actors and directors.
Her handler…
of course she didn't come to the US alone, she's handled by a 23 year-old German woman named Luisa Marie-Nuebauer, who is one of the principle people behind the climate strikes by school-age children in her home country.
Marie-Neubauer is also one of the "frontmen" for an organization called "One" foundation.And do you know who are the founders of One Foundation? None other than Bono, Bill and Melinda Gates.
Great initiative though.
Here's how people reacted to her speech :
1.
Greta Thunberg comes from Sweden. A country so developed that its per capita income is 50,840 dollars.

A teenager from a developed country has the privilege to pontificate on climate change.

Can a kid from India or China do that without worrying about her job prospects?

— Monica (@TrulyMonica) September 25, 2019
2.
Can we just say screw it and elect @GretaThunberg as president of the world?

— Emma Vigeland (@EmmaVigeland) September 25, 2019
3.
Staredown. @GretaThunberg pic.twitter.com/eOU6NInPqc

— Gary Taxali (@GaryTaxali) September 25, 2019
4.
And, the Oscar goes to @GretaThunberg.

— 🔥The Linguist🔥 (@TheLinguist5) September 25, 2019
5.
So much for compaign against single use plastic.. 😂

And she is not at all thinking about poor children in Africa. #hypocrisy pic.twitter.com/JHbY6PBO4C

— sammy (@lsammy17) September 25, 2019
What do you think about it ?